As you create your pages, it's natural that you're going to try ideas that don't quite work out as you imagined.
Here are your options:
Undo your changes during your editing session by using keyboard shortcuts.
Or, you can use Heroic's Page Edit History panel and revert to an older version of your page
Using Keyboard Shortcuts
Undoing changes you just made is easy with keyboard shortcuts.
On a Mac, hold the Command key and press Z to step back to previous versions.
On Windows, hold the Ctrl key and press Z to step back to previous versions.
Each time you press the keyboard shortcut, another change will be reversed, until you're back at the beginning of the current editing page session.
Important: to RE-do a change you already UNDID, you can use:
Ctrl-Shift-Z for Windows
Command-Shift-Z for Mac
Accessing the Page Edit History panel
The Page Edit History panel is a visual way to view your list of edits to a particular page.
To access the Page Edit History panel:
Click the

Page

icon in the left panel
Locate the page for which you want to undo changes
Click on the

...

menu for that page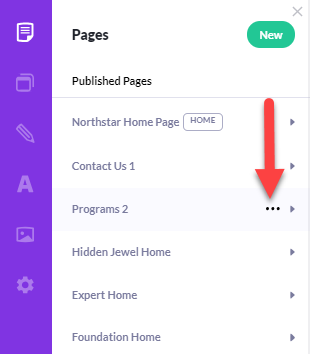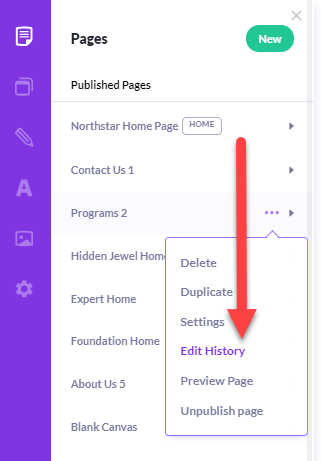 The Edit History panel gives you a visual history of the edits you've made to a page over time.
The panel has 2 tabs: This Session and Previous Sessions.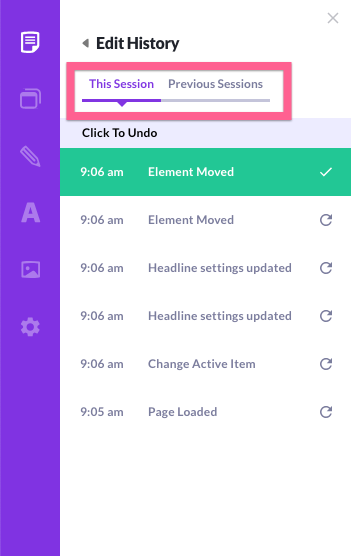 By clicking on items on the This Session tab, you'll be able to reverse changes you made to your page in the current editing session. (In other words, if you make a bunch of changes, stop to make a coffee, and then continue, those will be considered different sessions.)
By clicking over to the on the Previous Sessions tab, you'll be able to access the version of your page at the end of previous editing sessions.