Wordpress is the most popular choice for building a website out there today, mostly because you can download it for free.
But in this page, you're going to learn how "free" software never comes without a certain cost of ownership to your business. Whether it's money or time, or both, I'm about to show you just how much Wordpress is actually costing you and your business.
First, Wordpress' Dirty Secret: It Isn't Really Free. (It isn't even low-cost)
A lot of people ask us -- why should we pay you money when I can download Wordpress for free? That's a great question and highlights a common misconception about so-called "free" software.
Here's the deal: "free" software is never free. You need to consider the total cost of ownership. There are always costs you don't suspect, lurking in the background, waiting for you.
What Does Your New Online Home Look Like?
Naturally, your new business home needs to look amazing, be designed in the right way so that it converts for your audience, generating results and income.
OK, to achieve that in Wordpress, here are your 3 options:
Option 1: A free theme. A lot of people go for a free business theme. Because it's ... free. But think abhout it -- is it really free? Free themes are likely to be boring, generic, and make you look like a million other sites out there that use a similar theme. Do you think it's likely to actually generate great results for you? Obviously not, which makes your new free theme quite expensive when you factor in the cost of all those missed opportunities.
Option 2: A "premium" theme. This is a smarter choice and will give your site a little extra professionalism. Depending on the quality of the theme, it will cost you between $19 and $99. But you still end up looking like you're using a theme, which is no bueno.
Option 3: Hire a web designer to create something unique to you. Budget to spend at least $1000 (and perhaps a lot more depending on the size & requirements of your site,) and then $1000+ to have it converted into a theme that Wordpress can use. We've done this in the past, and if you must use Wordpress, this is the way to go if you can afford to, because you get the best ROI for your business on the backend.
When you use Heroic, you get access to any of Heroic's free Starter Sites that were designed by our in-house designers, guarantee to get you more results than a random Wordpress theme. Why? It's because they're designed for YOUR industry and niche. (Naturally, you can also easily and quickly customize your Starter Site with your fonts, colors, images and content to make it your own. In just 30 minutes, your business site can be up and running!)
Now, What If You Need to Customize the Layout or Site Content?
If you're like most entrepreneurs, you're always making changes. Adjusting. Evolving. Pivoting. Seeing what works better for you. It's no different for your site. Unless you're testing new stuff, then your site will stagnate and begin to under-deliver in a big way.
In Wordpress, you're out of luck. It's notoriously different to make layout adjustments to a theme unless you're very technical, or have the money to hire a programmer to do it for you at $20-$100/ hour. That's why in most cases people just decide to "settle", and put up with a crappy, embarrassing website for years. They unfortunately just don't have the support to evolve it.
In Heroic is easy, simple, and free to update absolutely anything on your site. You'll drag & drop your way to brand new pages, different page structures, layouts, functionalities and page goals.
Next, what about editing or adding page content?
In Wordpress, it can be challenging to even figure out where to access each page's content actually lives. Thanks to the way Wordpress' plugins work, your top navigation will be in a completely different location than your blog content, from your page content. But in Heroic you'll be able to make that change in seconds.
So, by now, you're getting a good idea of how expensive "free" can be when you choose Wordpress. And we're not done yet unfortunately.
Getting Your Site "On the Air"
Just as death and taxes as inevitable, if you have a website you can't get away from hosting fees. With Wordpress (or any platform), those will run you anywhere from $9/mo to $97/mo depending on which hosting company you choose. The faster and more robust the hosting solution, the more you'll pay.
Go for the cheapest option? Good luck getting your site to load in less than 5 seconds, which effectively "bans" you from the front page of Google forever. (Site load time is a huge factor in where your site will place in the search engines.)
With us, your super-fast site hosting is included in your low monthly subscription, saving you that cost, and we guarantee that your site will load in 2-3 seconds -- guaranteeing that you'll at least be considered for Page 1 placement. (There are naturally other factors, too)
And getting your site "on the air" in only the start of the costs you can have when you choose Wordpress. Now we come to the ongoing maintenance costs that can really mount up.
The Fact is that Wordpress Requires Technical Expertise
Depending on how you choose to use Wordpress to build your site, you'll be expected to have anywhere from some to a LOT of technical skills and expertise to build a site.
This may be something you already possess, but if not, it can be a painful experience just to get up something simple for your business.
And as we've already seen, depending on the solution you choose, once you're up and running, while content changes are usually fairly easy, it can be downright impossible to change changes to your layout theme once it's up.
Most current Wordpress plugins and theme-based solutions require you to be comfortable with the thought of working with HTML and CSS yourself, or have deep enough pockets to hire a programmer to do the work for you.
Many business owners told us they wanted more control over their site, and that's why in comparison, Heroic requires no technical expertise or creativity to build your site -- just an ability to use a mouse.
Wordpress's Not-So-Secret-Struggles with Security
Any chain is only as strong as its weakest link -- and "security" is Wordpress' most acknowledged weakest link, by far.
Wordpress was originally conceived as a blogging platform. It's only been in recent years that it's being used for much, much more than that. As years pass, more and more developers create plugins that add sexy new features on top of a chassis that was never designed for it.
Some plugins are well developed and secure. But unfortunately, many aren't, and these poorly coded plugins are basically open doors for hackers to seize control of and hack your website, which happens commonly.
According to http://securi.net, Wordpress accounted for 90 percent of all hacked sites. In fact, the Securi.net team found zero security (aka "backdoors") on two-thirds of all hacked sites, and SEO spam comments on half.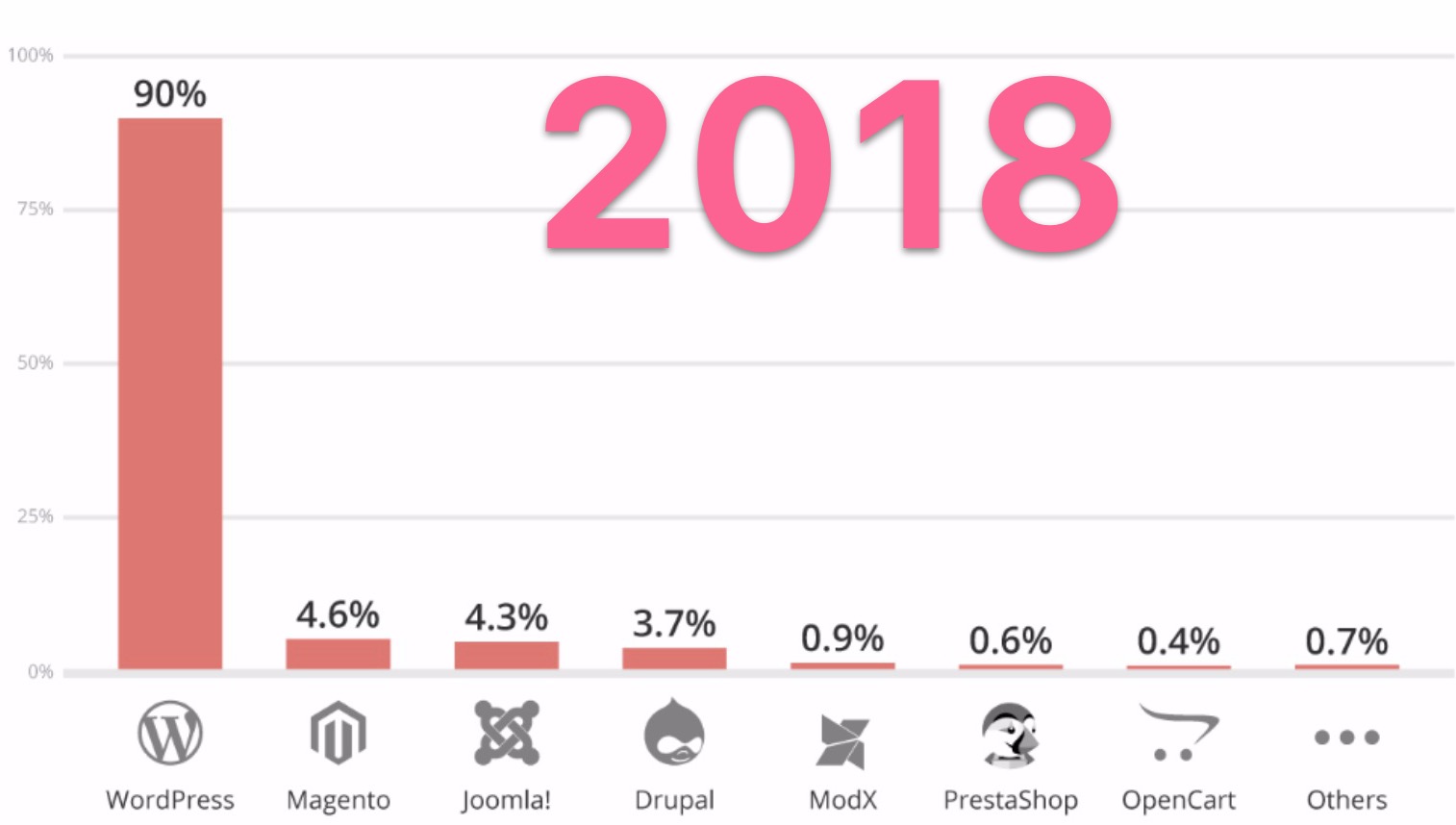 Sucuri experts blamed most of the hacks on vulnerabilities in plugins and themes, misconfiguration issues, and a lack of maintenance by business owners, who often forgot to update their Wordpress sites, themes, and plugins.
And when your site gets hacked, it's your worse nightmare. Your only real 2 options are:
Find someone to "un-hack" your Wordpress site for you, which can be time-consuming and costly, and will require you to be offline for days, if not weeks, costing your business big-time
Completely re-build your site from the start, which can be even more time-consuming and costly, and again, required you to be offline for at least a few weeks
Even worse, many hacked business owners told us they were actually "afraid" to update their Wordpress sites with the latest update, because they (rightly) feared that the update would "break" their site, leaving them losing money and helpless, and preferred to simply "hope" they wouldn't be one of the unlucky ones.
However, as you can see, fortune isn't on your side in this particular case. You're far more likely to be hacked if you rely on Wordpress -- and we believe that you deserve a platform that's actually fast, secure, that's updated for you, and leaves you feeling confident and secure that your business website is safe.
What About Advanced Features & Functionality?
What about popups?
With Wordpress, you can install a free plugin with limited options. Install a paid plugin with the features, styling options & integrations you really want ($19+/mo)
With Heroic: Free & unlimited with millions of possible combinations, plus you can even design your own. We include incredibly advanced and highly customizable triggering options for your popups too, which are equivalent to having the highest-priced popup solution on the market for Wordpress.
What about forms?
With Wordpress: Gravity Forms ($99/year), and then you need to figure out how to connect it to your email provider (Good luck)
With Heroic: 10 ­second, 1-click integration with every email service
Stock images for your site?
Without Heroic: most people simply use images without permission, which can land you in legal hot water. For those who choose to stay legal, the industry standard stock image site is iStockPhoto who charge $10 per image which can add up to over $1,000 year just for images if you're a blogger
With Heroic: free & unlimited, forever, through out stock image search tool
Image Sizing?
Without Heroic: Adjustment of photos so they fit the site, and the brand (at $5-$10 per image x 20 images, that adds up to $100-$200). Or you can use the wrong-sized photos, and end up with an amateur-hour site
With Heroic: Included free, as part of the editor, saving you a bundle, increasing sales because you look like an "A" player that cares
Fast, secure, optimized, geo-localized hosting
Without Heroic: Add an extra $29/mo month on top of the advertised rate if you hosting that's not molasses-slow (you'll either pay that way, or in the missed sales from people who didn't have the patience to wait for your site to load)
With Heroic: Geo-localized, optimized hosting is included, that puts copies of your site onto servers in almost every country of the world, so that no matter where your visitor lives, they'll have super-fast load times, just as if your site was hosted just next door
SEO-Friendly?
With Wordpress: Yoast SEO (industry standard) is $69/year for the version you really need
With Heroic: All essential on-site SEO is already included
Firewall?
With Wordpress: You'll need to choose a more advanced (and more expensive) hosting provider to get this kind of protection
With Heroic: Included
Load Balancing for Incredible Site Speed?
With Wordpress: Most people are sharing a server with hundreds of other sites. That's why your hosting bill is less than the monthly price of Heroic. But if one of those sites on your server starts receiving a lot of traffic, it affects your site speed, potentially costing you business
With Heroic: Every Heroic site has its own "virtual server", so no-one else's site will affect you, ever
Secure Certificate? (SSL)
With Wordpress: Purchase an SSL certificate ($29), install it.
With Heroic: Automatically included
With Wordpress -- your up front expenses would be $2,650-$8,000 depending on which options you took, and then a monthly fee of $336-$496 to keep it all running.
With Heroic -- it's ALL included in your subscription. There's never any more to pay.
What most people don't know about Wordpress:
the core Wordpress platform needs to be constantly updated in order to remain "secure", but what they don't tell you is that these updates can crash your site, and can cause themes & plugins to break and stop working
poorly created plugins are constantly breaking and taking people's sites down, and unfortunately are the main source of security breaches that allow your site to get hacked
most of the essential functionality you're looking for requires you to find and install a bunch of plugins. For example, you'll need plugins for marketing, email marketing, security, popups, caching, SEO, and the list goes on -- and again, the more plugins you install, the greater your chances of being hacked plus -- many of the best plugins come as a premium monthly subscription, meaning you're paying a monthly fee (so your Wordpress site can end up costing you way more than just your hosting fee)
on top of that, too many plugins will slow your site down to a crawl (most Wordpress sites need about 10 to do everything a Heroic site does) most site themes are built by programmers or designers -- people who don't know how to design sites that contain the right elements to actually grow your business
once built, the page structure of Wordpress themes is very hard to update or change much without calling in a developer to update your theme integrating your autoresponder forms can be a nightmare if you're not a techie
Here's the functionality that Heroic has natively built-in (that doesn't require you to use plugins):
SEO - makes your pages ready for the search engines
Cache - creates optimized, smaller versions of your pages so that they download faster for your user
Visual page builder (usually only an expensive paid plugin) - makes it super-easy to make changes to your page, small or large
Powerful image search functionality to find the perfect images for your pages, free. Icon search functionality to find the perfect icons for your pages - doesn't yet exist as a Facebook plugins
Popups - allows you to use an endless variety of popups including ones you design yourself with the visual page builder. (Try designing your own popups with a Wordpress plugin!)
Security - Heroic is coded in Python, the same technology that Google is based on, which is renowned for being fast and ultra-secure, compared with Wordpress' PHP-base which is known for being insecure. (Normally, you would need to install between 1-3 security plugins in your Wordpress site to avoid getting hacked. No need for that with Heroic)
Automatic opt-in form integration - 3 clicks and you're connected like magic with all of the major autoresponder platforms
Things Heroic provides that don't come in any other solution:
Constantly kept up to date with new website trends -- built-in library of pages, templates, plugin-modules that you can use for free, created by designers with expertise in direct response marketing, to keep your pages fresh and looking up-to-date (you would have to pay a designer big bucks for this)
Automatic, free "content localization" -- our optimized hosting setup puts copies of your site onto servers in almost every country of the world, so that no matter where your visitor lives, they'll have super-fast load times, just as if your site was hosted next door
Global font and color palettes make it easy for you to establish site-wide font and color styles that you can apply to every page you create. Every headline will look the same, every time you use that blue, it's exactly the right shade. These kind of details make it simple to keep your site consistent and send the critical signal that you're "for real" to your visitor.
View (and edit) your site in responsive mode - make sure it's going to look beautiful in every device, and make device-specific tweaks