I've developed these 8 headline formulas over the years of writing copy for myself and for my clients -- and they will allow you to create professional headlines in a paint-by-numbers way, quickly.
TIP: As I go through these, pay attention to what jumps out at you. The odds are that your product or service .. and your message in general... is probably going to suit one of these kinds of headlines over all the others.
1. The News Headline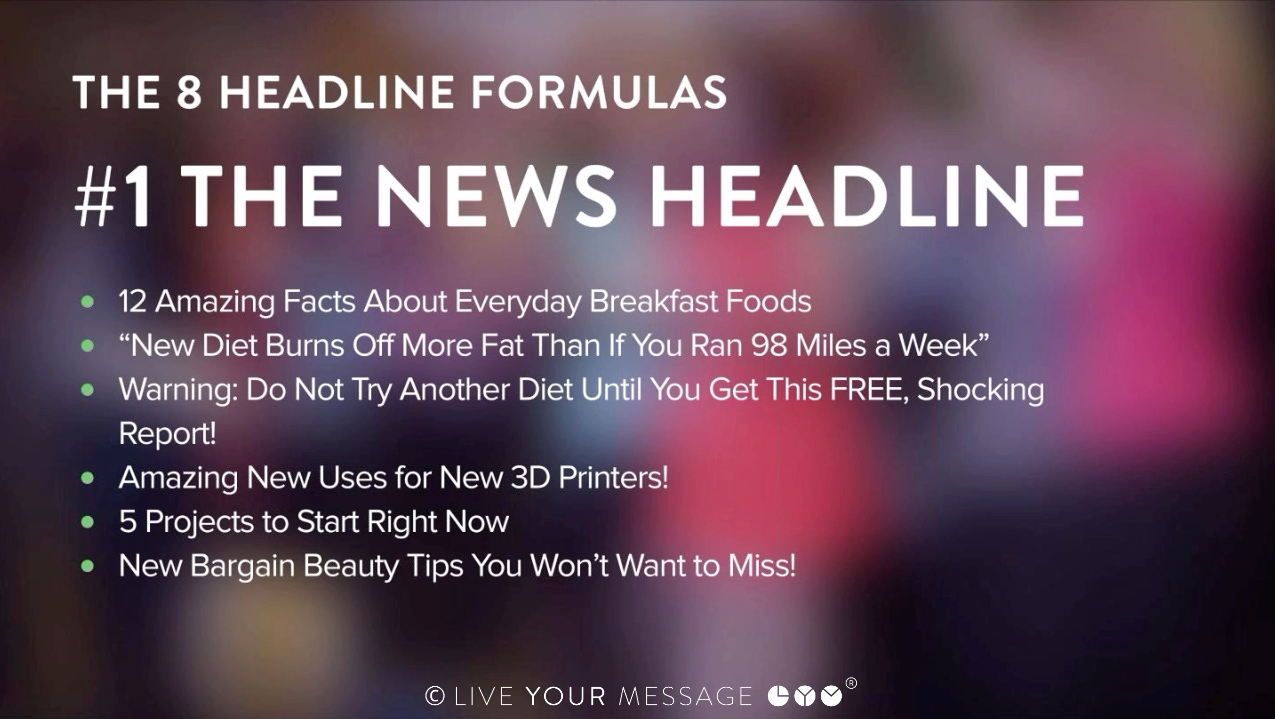 If your product or service offers something newsworthy, announce it in your headline.
You would normally use this to introduce a new product or the improvement of an existing product. Here are some words you can use in your News Headlines: New, Announcing, Introducing, Finally, Just released, Now, At last.
Examples:
12 Amazing Facts About Everyday Breakfast Foods
"New Diet Burns Off More Fat Than If You Ran 98 Miles a Week"
Warning: Do Not Try Another Diet Until You Get This FREE, Shocking Report!
Amazing Uses for New 3D Printers!
5 Projects to Start Right Now
New Bargain Beauty Tips You Won't Want to Miss!
I see lots of personal development, food, self-image products and services using these headlines.
2. The Guarantee Headline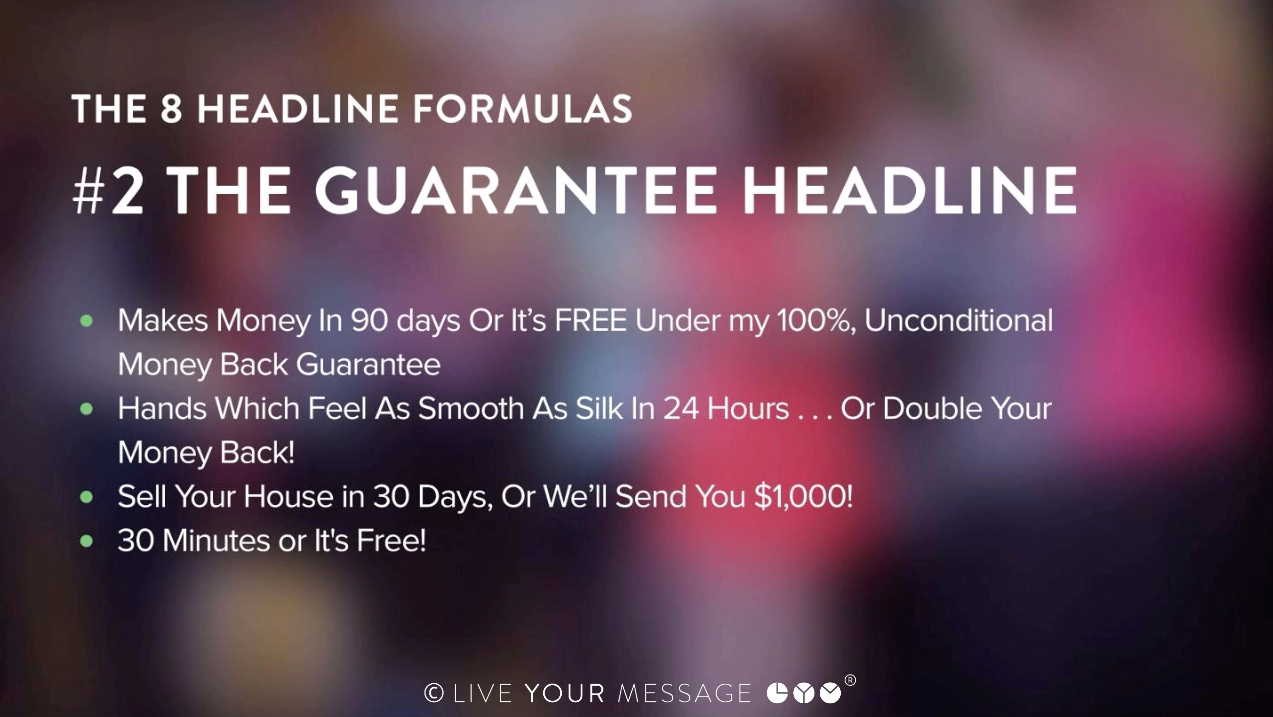 These state a desirable benefit and guarantee results or other benefits. If you offer a powerful guarantee . . . let your prospects know by stating it in the headline.
Examples:
"Makes Money In 90 days Or It's FREE Under my 100%, Unconditional Money Back Guarantee"
"Hands Which Feel As Smooth As Silk In 24 Hours . . . Or Double Your Money Back!"
Sell Your House in 30 Days, Or We'll Send You $1,000!
and Dominos Pizza's famous - "30 Minutes or It's Free!" headline, which did so well that they went to #1 in the pizza industry in the US in 1979 the Instant they started using it. They're not using that headline anymore, sadly, opting for a more watered down version - "Love your pizza or we'll remake it or refund you."
3. The "How To" Headline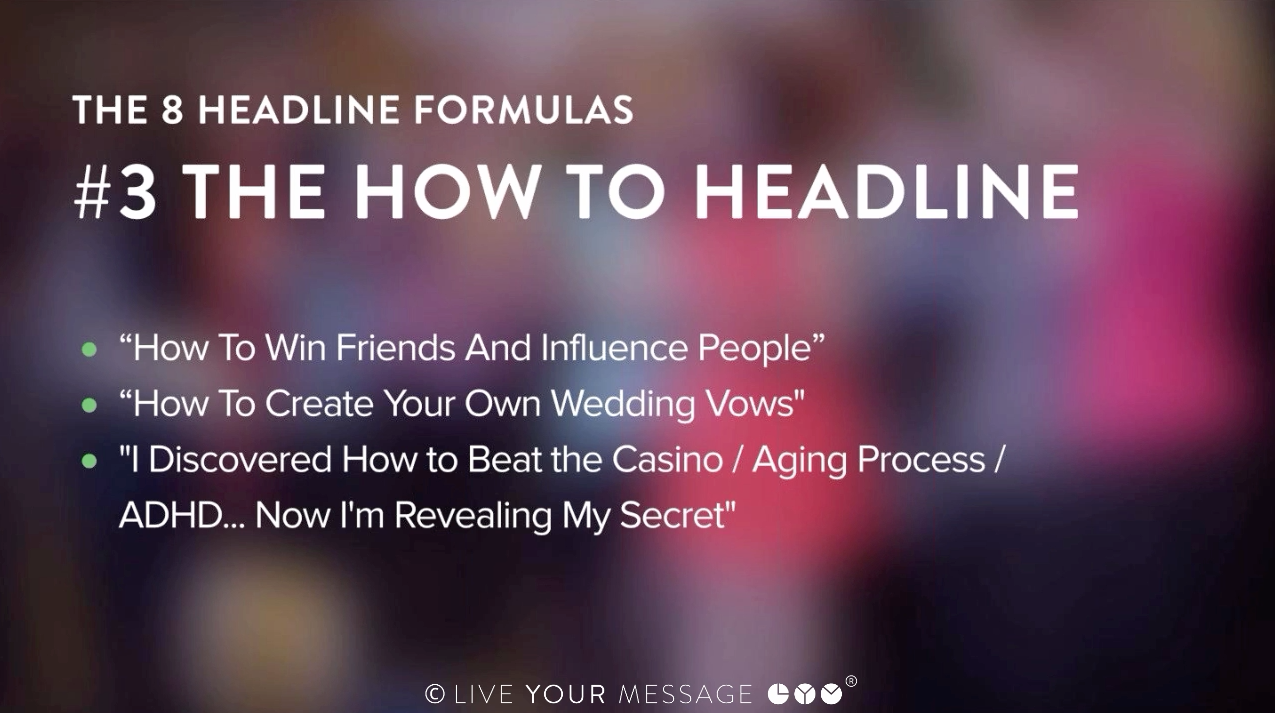 Amazon shows 634,000+ book titles starting with "How To," you can't go wrong with this one.
If you ever get stuck, try adding 'how to' in front of your headline as these type sof headlines promise your prospect a source of information, advice and solutions to their problems.
Example:
"How To Win Friends And Influence People"
"How To Create Your Own Wedding Vows"
"I DIscovered How to Beat the Casino / Ageing Process / ADHD... Now I'm Revealing My Secret"
4. The Benefit Headline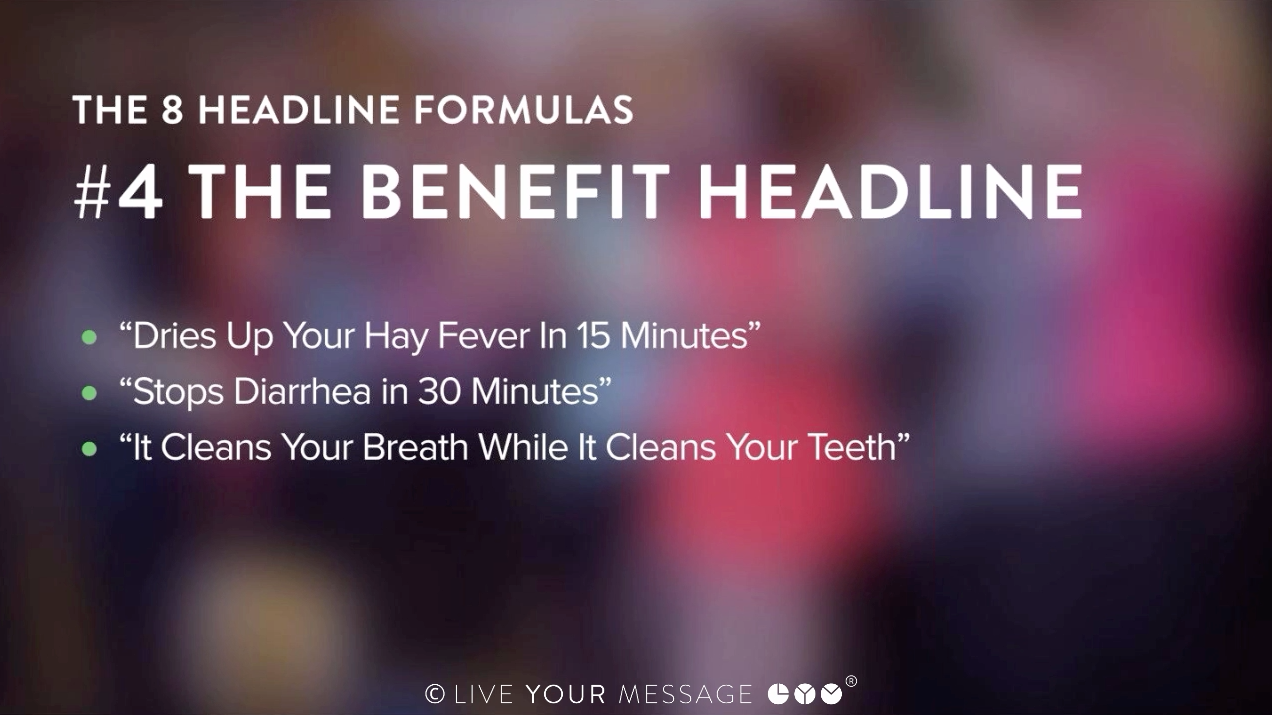 You may have heard other people say this -- but I'm going to say it again too -- benefits sell . . . features DO NOT!
To write a successful benefit Headline, you must know your market so well, you can offer them a powerful, compelling, benefit-driven headline about something they can't easily get somewhere else. You must do your homework, though, in order to know what benefit will motivate your prospect/s to take action.
Examples:
"Dries Up Your Hay Fever In 15 Minutes"
"Stops Diarrhea in 30 Minutes"
"It Cleans Your Breath While It Cleans Your Teeth"
5. The Question Headline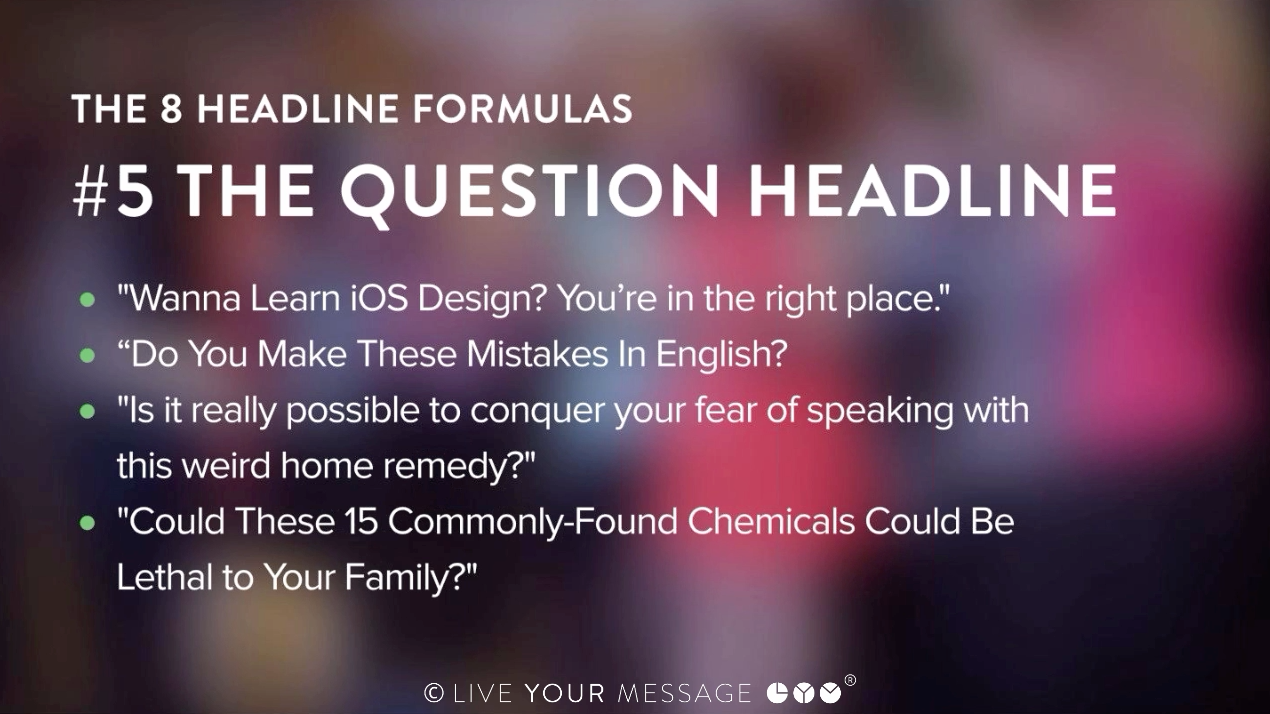 Be careful when using this one. You must know your market completely, otherwise you can blow your whole advertising campaign. The best types of questions to ask are questions which get your prospect involved.
Examples:
"Wanna Learn iOS Design? You're at the right place."
"Do You Make These Mistakes In English?
"Is it really possible to conquer your fear of speaking with this weird home remedy?"
"Could These 15 Commonly-Found Chemicals Be Lethal to Your Family?"
6. The Reason Why Headline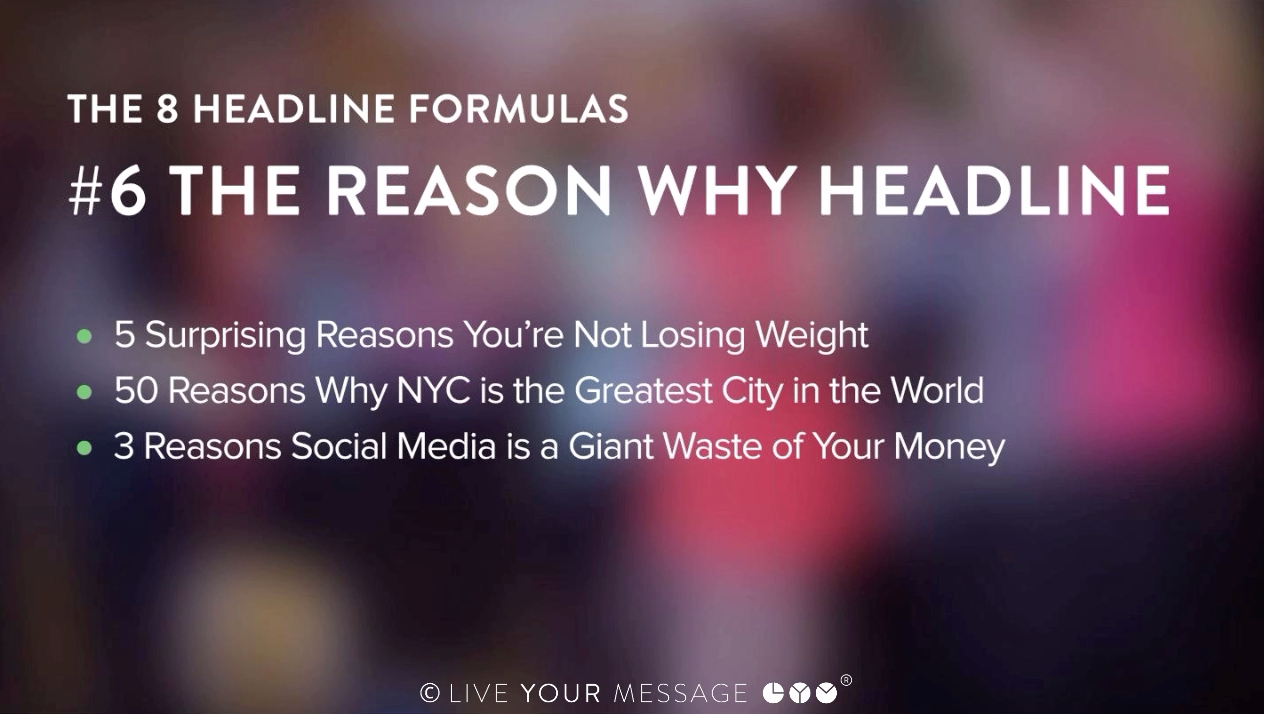 These give your prospect specific reasons why they should read your ad, sales letter, or website. These are very effective because they contain facts and specific numbers, and very often they go against commonly-held wisdom with a counter-intuitive angle to them.
Examples:
5 Surprising Reasons You're Not Losing Weight
50 Reasons Why NYC is the Greatest City in the World
3 Reasons Social Media is a Giant Waste of Your Money
7. The Testimonial Headline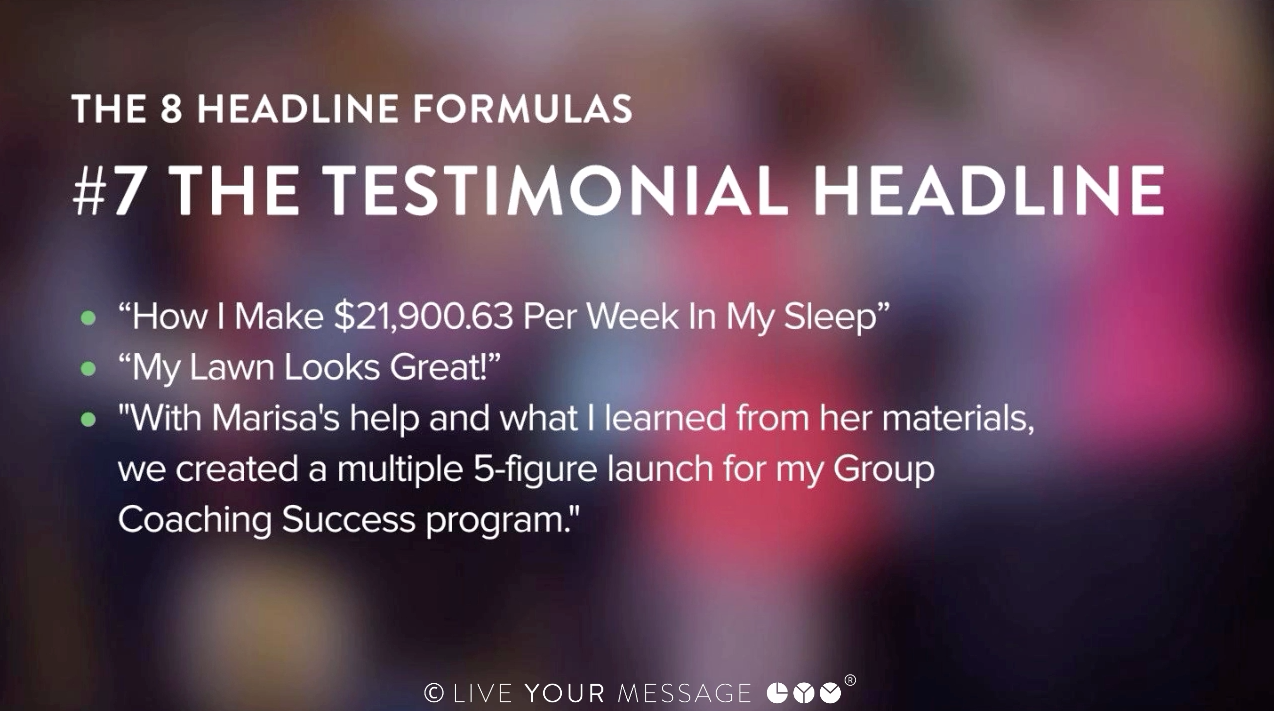 This is just what it says. It uses a customer testimonial for a headline. This gets your customers to sell for you by talking about the benefits they received.
Examples:
"How I Make $21,900.63 Per Week In My Sleep"
"My Lawn Looks Great!"
"With Marisa's help and what I learned from her materials, we created a multiple 5-figure launch for my Group Coaching Success program."
8. The Command Headline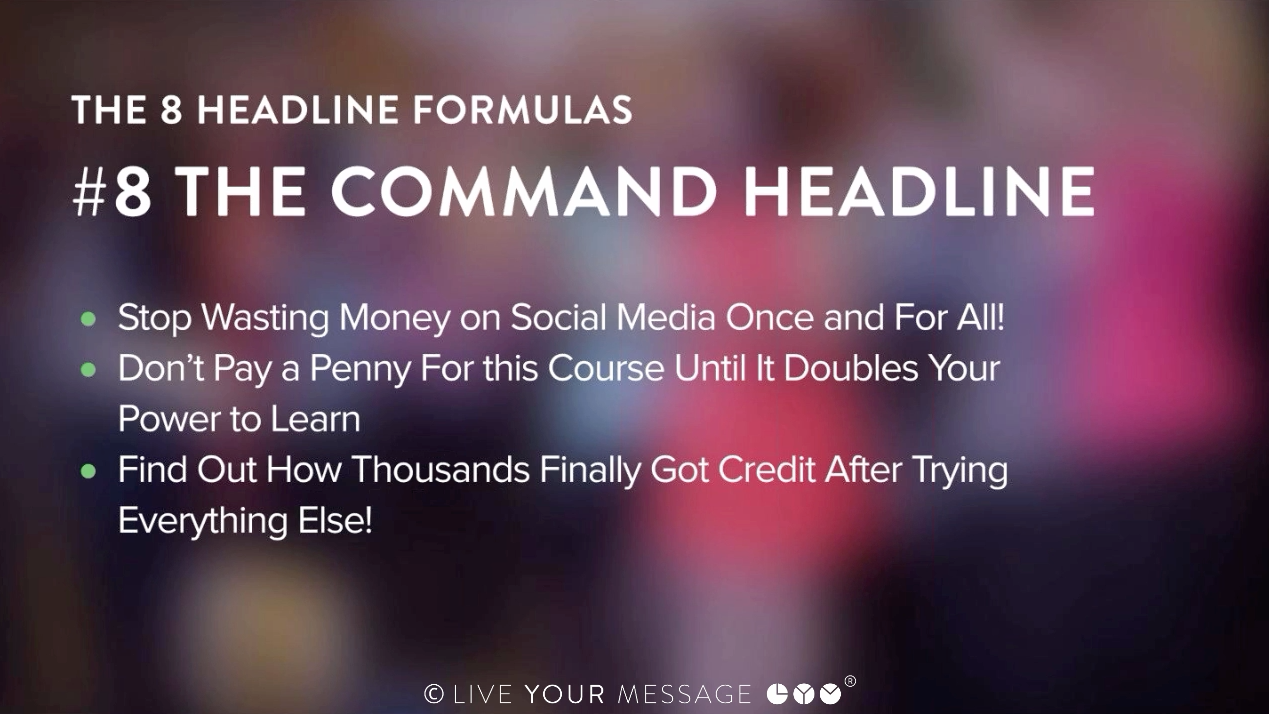 This tells your customers what to do. Your command should encourage action by offering your prospect a benefit which will help them. The most effective command headlines start out with action verbs.
Examples:
Stop Wasting Money on Social Media Once and For All!
Don't Pay a Penny For this Course Until It Doubles Your Power to Learn
Find Out How Thousands Finally Got Credit After Trying Everything Else!
What I'd like to do is take a few minutes and have you brainstorm some new headline examples for your business, your product, or your offering.
So - with these 8 formulas, plus the other tips I gave you, I want you to come up with 25 Home Page headlines to try out.
Lots of people found these next topics pretty useful...